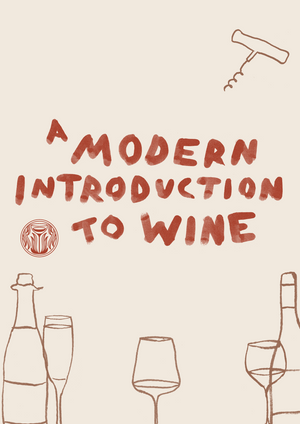 A Modern Introduction to Wine at Agweres
Sale price Price $383.00 Regular price Unit price / per
Forge the foundations of your wine education with A Modern Introduction to Wine, Wild Wine School's signature course for the curious wine enthusiast.  Across eight weeks of study, we'll breathe life into wine's brilliant basics, while shining a special light on sustainable viticulture, and minimal intervention winemaking.  
Offered for the first time in-person at Agweres, Cornwall; A Modern Introduction to Wine evolves with the seasons, bending with the elements to deliver varied content, wine types and special guests to reflect both the time of year, and the ever-changing world of wine.  
The Low Down…
Delivered  on Thursday evenings over eight weeks
Expert tuition from wine expert and WSET certified Wine Educator, Debbie Warner.
Small classes, limited to 8 students each course.
Taste over 30 wines 
By the end of the course you'll feel confident tasting, describing and choosing wines! 
Plenty of opportunities to geek out with further reading and drinking recommendations 
Chardonnay and Friends
Busting myths, and arming you with the skills to be a discerning Chardonnay drinker, we'll discover just how chameleon-like this versatile grape can be. You'll also be introduced to the seven other main grape varieties important in winemaking - Riesling, Sauvignon Blanc, Pinot Grigio, Pinot Noir, Syrah, Cabernet Sauvignon and Merlot as well as pointing you in the direction of information on more weird and wonderful grapes.
Sparkling Wines
Move aside Prosecco, step back Grand Marcs of Champagne, in Sparkling Wine Week we'll talk Pet Nat, Corpinnat, Grower Champagnes, plus other fizzes that will get you popping corks every day of the week.
Organic and Biodynamic Viticulture
Always wanted to know what happens in the vineyards of organic wineries? And how does a winemaker have to do to become certifiably organic? From lunar cycles to the special alchemy of plants and manure, discover how biodynamic, and organic farmers navigate the fascinating world of sustainable viticulture.
What is Natural Wine?
The best winemakers will tell you that wine is made in the vineyard rather than the winery. They believe it's the job of the winemaker to guide grapes gently through to a wine, allowing them to express a sense of place. But what choices do winemakers have to make and how do these choices affect the finished wine? We explore these questions and more in Natural Wine Week. 
Pairing Food with Wine
Debunk the 'only drink white wine with fish' rule, and other myths in our practical food pairing lesson. Prepping you with a set of pairing guidelines, we'll help you understand how food and wines interact, guiding you in the direction of combinations perfect for your personal taste.
Region in Focus - Douro (changes seasonally)
Applying the knowledge you've gleaned so far, we delve into some distinguished wine regions around the world. This week, the vineyards of the Douro Valley. The people, the stories and the specifics of the terroir, you'll soon have the Douro all sewn up. 
Rosé and other Skin Contact Wines
Shaking off its chintzy connotations, we look at rosé through a new lens, and explore how orange wine has taken the wine scene by storm. With plenty of enlightening examples, from deep-punchy pinks through to delicate amber hued oranges, we look at how they're made, and why they're demanding some serious attention.
English Wines
We unveil the brave new world of English winemaking, introducing you to some pioneering producers, as well as considering how climate change might affect what happens to the future of wine. 
Who is this course for?
A Modern Introduction to Wine has been designed for people who love to learn, those who are curious to know the stories behind the wines they drink and fascinated by the processes involved in how wine is made. No previous wine knowledge or certifications are required, but the stronger your thirst for learning, the more you'll gain from the course. There's also plenty of content for those with an intermediate level of wine knowledge to get their teeth stuck in to, and more advanced learners should find the course enjoyable – if not a challenge. 
Thursdays in January and February 2024 
11th, 18th, 25th January
1st, 8th, 15th, 22nd, 29th February
What our Students Say: 
"The Modern Introduction to Wine is a thoroughly enjoyable, thought-provoking and fun wine course. Each session covered a new aspect of the winemaking process, including a focus on natural and bio-dynamic wines, which most wine courses don't cover in-depth. With weekly, self-guided learning material sent ahead of time, I felt that I was learning at a pace that suited me each week. The quality of the wines and course material was second to none, and the teaching was fantastic.

Debbie

makes learning about wines refreshing, fun and accessible. There was no stuffiness or snobbery; it was a group of like-minded people getting together to enjoy wines each week. I will miss our sessions and look forward to experiencing more of what Wild Wine School offers in the future. I will also be purchasing a Modern Introduction to Wine as a gift for my father; it will be extremely well received. Thanks,

Debbie

, for opening up my eyes to a whole new world of wine."
Anna Ireland, 
MITW Graduate 2021 

"I completed WSET L2 a few years ago and with free time owing to lockdown/furlough, was looking to further my knowledge. Initially thought WSET L3 would be most appropriate, but this wasn't available so signed up to Modern Introduction on recommendation. Was perhaps initially a little wary that the course might just recap WSET L2 content, but it totally exceeded expectations and owing to the quality and diversity of both the content & delivery, etc, it introduced me to loads of sources to take ownership for my own learning. "
Joel Friskney-Adams, MITW Graduate 2021
"Debbie has produced a dynamic and relative course for the modern wine drinker. The course design focusses on a select group of topics which felt like an important foundation of wine knowledge. I feel as though any confusion I had on these topics has been clarified and I feel more confident conversing in the bottle shop about what I do and don't want. I recommend this course for anyone who would like to get more enjoyment out of their wine life."*
"I've learnt so much over the course of this training, from the science of the soil to the complexities of tasting wine with food. I really knew nothing before but now I feel inspired to be more engaged in the different varieties and already feel much more confident in approaching a wine menu. Thank you Debbie & Wild Wine School for creating such an exciting, accessible and inspiring course!"*
"I have been drinking wine for 50y. My pattern of consumption has varied over the years, largely reflecting places I've visited (I did once have a bottle of Afghan wine!) and opportunities for buying it. I confess that I had become lazy, buying mainly from supermarkets. Debbie's course has given me opportunity to development a better language in thinking and talking about wine, and has inspired me to take a more responsible and far more interesting approach to buying wine. I am now focusing on small producers in the less well known wine producing regions of Spain, and loving it!"*


"This course has been one of the most interesting and fulfilling things I have ever been part of. Firstly, it has given me the confidence to choose better wine. I find buying wine far more enjoyable as I am aware of which grape varieties and which regions I might most enjoy. I could confidently recommend a style of wine to a friend if they told me what kind of flavours they enjoy. My knowledge has vastly grown since the start of the course and I can happily talk about specific areas of wine and wine culture. It has prompted an interest in wine that I would never have realised. I have purchased books and I am researching vineyards to work on next summer. Being part of such a welcoming and interesting community over the last eight weeks has been extremely fulfilling. I have met some wonderful people on the zoom sessions who are more than happy to help me further my research and knowledge of wine. Debbie has been such a fantastic, accommodating host; I could not recommend this course more."*

*These testimonials are from students who enrolled in online pilot version of this course and gave anonymous feedback.