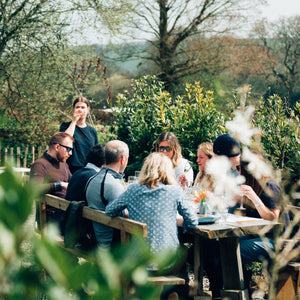 WSET Level Two in Wine- Four Day In-Person Course
Sale price Price $616.00 Regular price Unit price / per
From how to recognise a riesling to food pairing a pinot, expand your wine knowledge with this four day beginner to intermediate course based at our home at Lanteague Studios, Zelah. Suitable for industry professionals and wine enthusiasts, by the end of the course, you'll have gained an in depth knowledge of the principal and regionally important grape varieties of the world, the regions in which they are grown, and the styles of wine they produce.
What you'll learn:
How to taste and describe wine using the WSET Level 2 Systematic Approach to Tasting Wine®(SAT)
How environmental factors, grape-growing, winemaking and maturation options influence the style and quality of wines made from eight principal grape varieties;
Chardonnay, Pinot Grigio/Gris, Sauvignon Blanc, Riesling, Cabernet Sauvignon, Merlot, Pinot Noir, Syrah/Shiraz
The style and quality of wines:
made from 22 regionally important grape varieties
produced in over 70 geographical indications (GIs) around the world
How grape varieties and winemaking processes influence key styles of:
Sparkling wines
Fortified wines
Key labelling terms used to indicate origin, style and quality
Principles and processes involved in the storage and service of wine
Principles of food and wine pairing
Who's it for?
This course is perfect for anyone interested in learning about wine, either for personal interest or for those embarking on a career in wine or hospitality. No previous qualifications are required, but if you are a complete novice you may wish to complete the WSET Level One Award in Wine before embarking on this qualification. If you'd like to talk through which qualification would be best suited to you please get in touch.
Where is the course held?
We're lucky enough to call the Cornish countryside our home and this course will be held at our new premise at Lanteague Studios. We'll spend time outside in our little outdoor classroom when we can, so please bring sensible shoes and come prepared for the unpredictable Cornish weather. 
 Price includes tea, coffee and a light lunch each day.
Course dates (students are required to attend all four days): 
February/March 2024 at Lanteague Studios
19th, 20th, 26th February and 4th March
May/June 2024 at Lanteague Studios
13th, 14th, 20th May and 3rd June
Sept/Oct 2024 at Lanteague Studios
 23rd, 24th September, 1st, 8th October
In addition to classroom study this qualification requires a minimum of 11 hours of personal study and is assessed by a one-hour multiple choice examination.
For more detailed information on what is covered in the courses please see the specification here. 
*Please note a booking form must be completed two weeks prior to course start date.  
What our students say about this course...
"...your teaching has been outstanding - balanced between getting through all the syllabus but also offering enough interesting extras and anecdotes to make the facts memorable.
Definite highlights have been getting to smell all the wet grass, forest floor & mushroom smells on the first morning walk, the smell of Gevery-Chambertain, and a serious bout of reminiscing/wanderlust induced by the Chianti this afternoon." 
Ben Piper, Newquay
"Thank you for a great 4 days of teaching, organising and sharing your enthusiasm and great knowledge with us. I feel like I learned a lot about grapes, and wine, and geography. And of course how to keep warm in a barn...!"
Lucy Howdle, Falmouth
"Thank you very much for putting on a really enjoyable, informative and well-executed course. I learnt loads, and found the whole experience excellent. It was a great group, really nice to get to know everyone."
Jim Michell, St Wenn