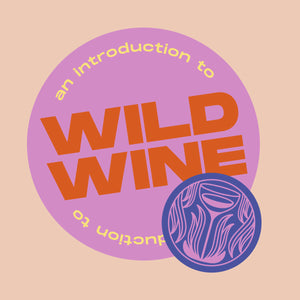 An Introduction to Wild Wines
Sale price Price $195.00 Regular price Unit price / per
 What does the course cover?
Organic and Biodynamic Viticulture 
Always wanted to know what happens in the vineyards of organic wineries? And how does a winemaker have to do to become certifiably organic? From lunar cycles to the special alchemy of plants and manure, discover how biodynamic, and organic farmers navigate the fascinating world of sustainable viticulture.
What is Natural Wine?
The best winemakers will tell you that wine is made in the vineyard rather than the winery. They believe it's the job of the winemaker to guide grapes gently through to a wine, allowing them to express a sense of place. But what choices do winemakers have to make and how do these choices affect the finished wine? We explore these questions and more.

Sustainability in Wine
Thinking beyond the vineyard and winery, how does the wine we drink influence and effect the environment? How do we move beyond the traditional high carbon shipping methods and heavy glass bottles.
Who's it for?
This course is for anyone who would like to learn more about sustainable methods of viticulture. We recommend having a basic level of wine knowledge (WSET Level 1 or equivalent), but it'll be interesting and fun for the seasoned expert too!
This course can be booked as an add on to our WSET Level 1 or 2 courses for a combined price, please drop us an email for details to hello@wildwineschool.co.uk.
Where is the course held?
We're lucky enough to call the Cornish countryside our home and this course will be held at our new premise at Lanteague Studios. We'll spend time outside in our little outdoor classroom when we can, so please bring sensible shoes and come prepared for the unpredictable Cornish weather. 
Price includes tea, coffee, all tasting samples, and a light lunch. 
Course dates
 6th February 2024
7th May 2024
9th September 2024
19th November 2024
What our students say about this course...
"Excellent course with relevant and engaging information. Debbie clearly knows what she's talking about. I loved the passion and enthusiasm for natural/bio wines and sustainability" 
Jonny Much, General Manager at POTL Padstow
"Debbie delivered an engaging introduction to the world of organic, biodynamic and natural wines. The topics covered were thought provoking and have sparked my curiosity to want to learn more. The course is a great mixture of gaining knowledge and tasting exciting new wines. I'd highly recommend the course to anyone who has an interest in wines"
Katie Gray, LWC Wines
"A really interesting and engaging course that really made me think about the environmental impact of wine as well as educating me on the fascinating details of biodynamic viticulture. Thank you Debbie"
Kayley , FOH at New Yard Restaurant