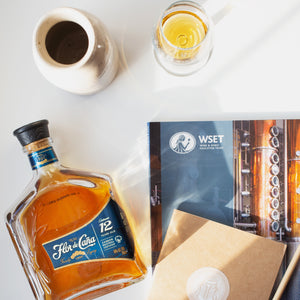 WSET Level One Award in Spirits- One Day Course
Sale price Price $292.00 Regular price Unit price / per
Learn how to tell a Bourbon from a Rye and the difference between a pot still and a column still  with this one day beginner level introduction to spirits, held at our new premises at Lanteague Studios, Zelah. Together we'll use our senses to explore the main types and styles of spirits, and if the weather permits, we'll step outside to learn in the inspiring setting of outdoor classroom.  
What you'll learn
The basic principles of spirit production
The main types and styles of spirits
How to serve spirits
Factors affecting the flavour of spirits
How to describe spirits using the WSET Level 1 Systematic Approach to Tasting Spirits® (SAT)
 For more detailed information on what the course covers please see the specification here.
Who's it for?
This course is perfect for anyone who wants to start learning about spirits, either for personal interest or for those embarking on a career in spirits, bar or more general hospitality. No prior knowledge is required.
Where is the course held?
We're lucky enough to call the Cornish countryside our home and this course will be held at our new premise at Lanteague Studios. We'll spend time outside in our little outdoor classroom when we can, so please bring sensible shoes and come prepared for the unpredictable Cornish weather. 
Price includes tea, coffee and a light lunch. 


22nd May
Please email hello@wildwineschool.co.uk to enquire about trade bookings or to register your interest for dates later in the year. 
*Please note a booking form must be completed 10 days prior to course. 
Funding
DEVELOP is the newly launched educational programme of The Drinks Trust, the drinks and hospitality industry charity. DEVELOP offers fully funded training and skills courses, delivered by industry-leading providers for people already working, or with an ambition to work, in the drinks and hospitality industry. Wild Wine School has partnered with The Drinks Trust to bring courses free of charge to eligible students.
The following courses are available for funding with DEVELOP: WSET Level 1 & 2 in Spirits, WSET Level 1, 2, & 3 in Wine.
Criteria of eligibility for DEVELOP: must be 18 or over, eligible to work in the UK, have a National Insurance Number, and be earning less than £26k/pa
Apply here (please specify on your application that you would like to study with Wild Wine School)